Just a little longer and the outdoors will start to draw in again. If you're heading out for a day trip soon, consider Halderberge. If Halderberge means nothing to you, that's not surprising. Maybe Oudenbosch (with its Basilica) Hoeven (with its Bosbad), Bosschenhoofd (Breda Airport), Stampersgat (Suikerfabriek!) and Oud Gastel ( Verwer & Janssen Triathlon) will tell you something more. There is an awful lot to do in this vibrant municipality and easily accessible from all directions!
1. The Basilica of Oudenbosch
The Basilica of Oudenbosch is a scaled-down copy of St Peter's in Rome. A beautiful structure of worldly stature in tiny Oudenbosch. Open 7 days a week with free entry. Climb the spiral staircase with 144 steps to the imposing dome and see the Basilica from a different point of view.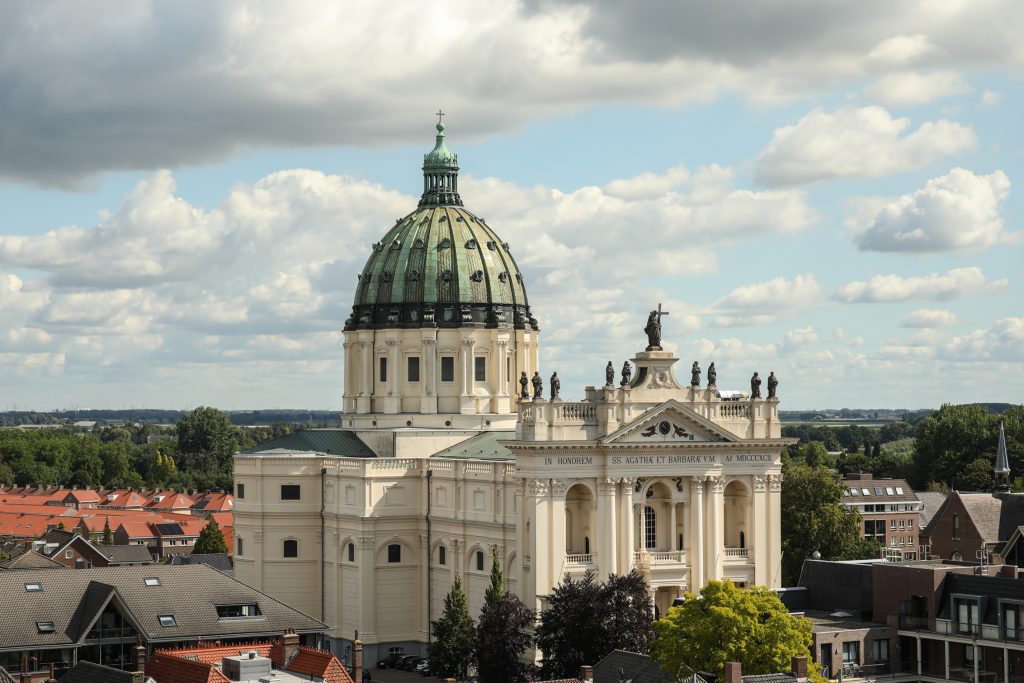 2. Up the paths, into the lanes!
Halderberge lies on the border of sand and clay, so you will find unusual landscapes. The nature areas Pagnevaart and Gastels Laag have their origins in peat extraction. As a result, you will find unusual flora and fauna! Take a walk or cycle through one of 
the nature reserves
 on a hot day and be surprised by the versatility of these areas!
3. Bosbad Hoeven & Waterspeelpark Splesj
Say Hoeven, you say Bosbad, or as the largest water play park in the Benelux is now called: Splesj. Many generations of children's parties, school trips and holidays have passed by in Hoeven. Dive into one of the exciting slides or make a bomb off the diving board. 
Splesj
 is a day out for the whole family!
4. Cycling and hiking in Halderberge
In Halderberge, people cycle and walk a lot. For instance, the famous 
Four Days of Cycling
 this year for the 47th time! Over 1,000 participants set off in the Ascension weekend for the various distances. But even outside the cycling and walking quaddays, it is wonderful cycling and walking in and around Halderberge. Every core has its own little diversions and there are various 
cycling routes 
outlined.
5. The tastiest local produce
If you choose a cycle route in Brabant, you will encounter a diverse landscape. In the Halderberge region, you will discover 'the land of Sand and Clay'. The soil in this area is a mix of sand and clay soil, ideal for growing vegetables and fruit. Clay is sticky and firm, it is full of nutrients and retains moisture well. Ideal in the dry summer months. Clay soil provides us with flavourful pumpkins and celeriac. The sandy soil is light, the spit goes through it quickly as do plant roots. This but it ideal for asparagus and strawberries. Brabant entrepreneurs and shopkeepers love working with these regional products. After your cycle route through Brabant, settle down on a terrace for a regional dinner.
Create your own route from the regional produce route map. The map shows 14 farms, each with their own speciality. At each location there is an information board about the company and with a bit of luck you can also go to one of the shops to take home that delicious piece of fruit or meat. 
6. Along Oudenbosch's pearls
If you think the Basilica of Oudenbosch is the only monument worth seeing, you are wrong! The pearl path is a walk along all the beauty Oudenbosch has to offer, and that's quite a lot. Boys' boarding school St. Louis, Botanical Garden Arboretum, the remarkable Zouave Museum, Observatory Tivoli and the Natural History and Ethnology Museum and, of course, the Basilica. Guided tours can be booked at several places. 
Pearl Path
7. Back in time at the Mastboom House
You step into the door and the clock has stopped. At half past 10 to be precise. In the year 1999. The prominent Mastboom-Brosens family bequeathed the house to a foundation after the death of the last descendant, Henri Mastboom. In this house you will find a perfectly preserved family home which belonged to the mayor's family Mastboom. Take a look back in time at the 
Mastboomhuis.
8. Supping together
In and around Halderberge, you will find a lot of water. Perfect for getting active. Hire a canoe or book a sup lesson at Bobla sup. Also highly recommended for a teambuilding, group outing or family day. Finish it off with a BBQ or regional dinner and your day is complete. 
9. Watching (and touching!) planes
Breda International Airport is well worth a visit! In the summer months, the airport is a destination for many hobby pilots, causing the planes to fly to and fro. From Restaurant de Cockpit, you have an excellent view of all the activity. Also visit the Flying Museum where airworthy vintage aircraft are on display. These planes still take to the air with some regularity! 
Air Museumseppe
10. Oudenbosch, we have a problem!
Located diagonally opposite the Basilica, observatory Tivoli is a story in itself. This observatory was the first public observatory in the Netherlands. Recently, the dome was restored to its full glory. Oudenbosch was even NASA's reserve station for a while, should there be any problems in Houston! Oudenbosch, we have a problem! 
Sterrenwachttivoli
Do you have another spring tip that belongs in this list? Let us know and send an email to info@visithalderberge.com or share the tip with us on social media @visithalderberge.