An unbelievable dream came true in Oudenbosch
Almost every village in Brabant has its own medieval church. Square tower, pointed roof and a cross. But not in Oudenbosch. That town has something different. Namely, the St. Peter's Basilica. Like the one in Rome, but a tad smaller. So how on earth did that building end up being built here?
No normal course of events
No normal course of events
Oudenbosch did have a medieval church once. And quite a nice one too, a bit similar to the one in Wouw. When visiting Oudenbosch, you can even find a chapel that was built with the stones from that church. But why was it demolished? A storm? A fire? No, none of that.
The Agatha Church was getting a bit too small and suffered from deferred maintenance. Then an ambitious architect came along, who recommended to not make repairs. And there was a pastor who really liked the sound of that.
The dream of a boy from Brabant
A church like a Roman basilica, St Peter's Basilica to be presice. But with the facade of another Roman basilica: that of Saint John Lateran. At least, that was the vision of pastor Willem Hellemons.
This vision came to be when he was studying in Rome. Naturally, a boy from Roosendaal was deeply impressed by the ancient city. He often sauntered through St. Peter's Basilica. And the room he studied in overlooked the church of Saint John Lateran, where he later would be ordained at the age of 22.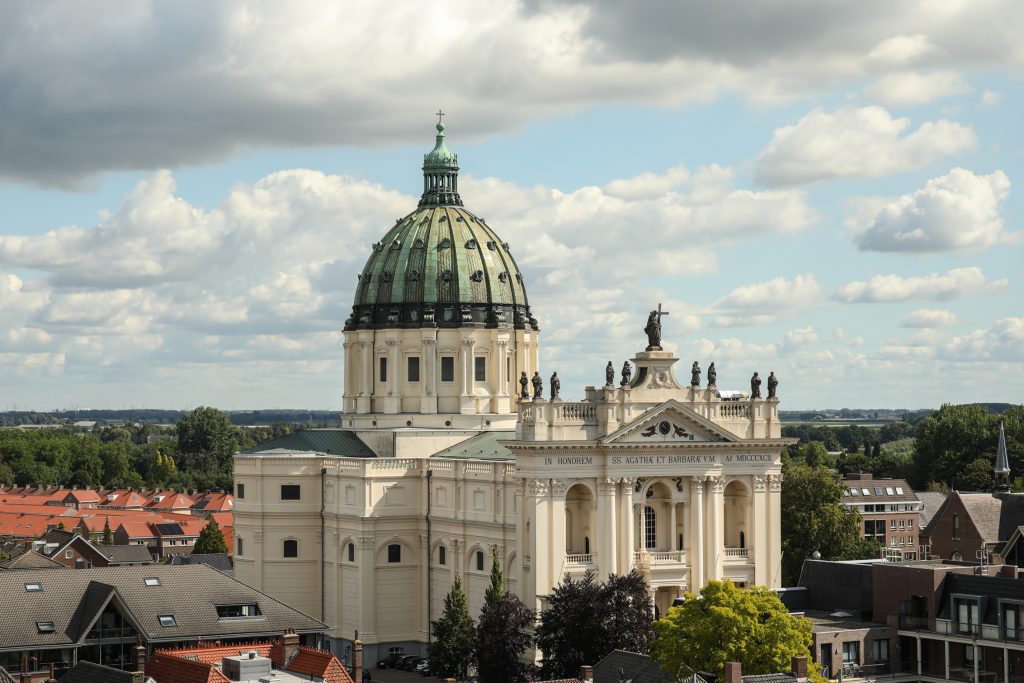 Roman basilicas aren't built in a day
Hij keerde als priester terug naar Brabant met die droom in het achterhoofd. Het jaar was 1834 en hij moest geduld opbrengen. Een Sint-Pietersbasiliek stamp je niet zomaar uit de grond. Zeker niet in een brabants dorp met amper 3000 inwoners. Ligt het in de aard van Halderberge dat puzzelstukjes hier vaak op miraculeuze wijze
samenvallen?
In 1865, the first spade was stuck in the ground. The first stone was laid in 1867. And in 1880, the new church was completed. In 1892, the facade was finished and the bells of the old Agatha Church were hung in place. The interior was still far from complete when Pope Pius X named the church 'basilica minor' in 1912.
Being Catholic is OK again
Toen Hellemons in Oudenbosch aan de slag ging, zat katholicisme in het verdomhoekje. Protestanten domineerden Nederland. Katholieken werden getolereerd, maar dat was het dan ook. Ze moesten er vooral niet mee te koop
lopen. Zelfs het luiden van de klokken was voor katholieken verboden.
The first major step to restore the status of Catholicism was taken in 1853, when the episcopal hierarchy was restored. Catholics were allowed to make themselves heard again. After being forced to hold their breaths for a while, they now felt liberated and wanted to propagate their religious beliefs. And what better way to show them off than with a brand new church?
Oudenbosch was making money
What about the funding? Hellemons found great support – also financially – in the new mayor, Mr. Van den Dries, born in a rich family, governor of Middelharnis and married to the rich widow Anna Melort. He donated a nice start-up sum.
That was a good start but it would never be sufficient. Pastor-turned-engineer Hellemons needed a constant cash flow to make his dream come true. And fortunately for him, the people in Oudenbosch were prospering.
During the French period, tree nurseries had done very well, because Napoleon needed trees for avenues to create shadow for his marching soldiers. At the time the basilica was constructed, both farmers and factory workers benefited from the flourishing sugar industry.
It's a good Catholic custom to make generous donations and so abundant amounts of money flowed to the church. The more you gave, the better your place in heaven would be. This is perfectly illustrated by Rosalia Scholten. She was rich, modest and single. The profits from her fabric store and the money she inherited from her father, went straight to the church.
So would she have a nice spot up there? Under the dome of the basilica, on the baldacchin of the altar, are decorative roses that remind her. That's one honour she has earned.
Creative minds spot possibilities
Hellemons now had the funds he needed. But it was not like he was able to splash the money around. Which led to creativity.
Voor het ontwerp van de nieuwe kerk van Oudenbosch tekende een bijzondere architect. Het was die ambitieuze jongeman die de oude gotische Agathakerk niet de moeite van het redden vond: ir. Pierre Cuypers. Later zou hij het gezicht van Amsterdam bepalen met het rijksmuseum en het centraal station. Even verderop in
Hoeven bouwde hij het indrukwekkende seminariegebouw Bovendonk.
Young Pierre Cuypers made a study trip to Rome. He absorbed the architectural style and skilfully translated it into a skeleton made of building materials available in Brabant: bricks, wood and plaster.
By the way, even as a young man, Cuypers was already quite stubborn. He thought the dome of St. Peter's Basilica was kind of average. So he designed a more slender dome for H.H. Agatha and Barbara in Oudenbosch. An improvement? Many people do think so.
A dream of one, the work of many
Inside, the brick walls had to look like marble. And so every wall was plastered and the marble was painted on. And then there were all these ornaments and frescoes. Thousands of brushes were used to paint the basilica. And the work is never finished, because all these decorations need to be maintained.
Pastor Hellemans was lucky to have good successors, who have continued working on his dream. Those who visited masses in the basilica as a child at that time and kept visiting, have seen the interior evolve. Which must have been a fascinating sight.
The pastor has never been able to see his dream in full glory. Far from it even, he was only able to preach in his church for 4 years, when it was still as empty as a new colouring page. He died in 1884.
When former Queen Beatrix visited the basilica in 1992, she softly whispered to her tour guide Jan Bedaf: "What a strange element in these surroundings.".
Strange. Yes, at first glance you could call the basilica that. But when you know how every piece of the puzzle has fallen into place, you might be more inclined to call it wonderful.